Header - Filtermedia
ENTEC® filtermedia, the best you can get!

Our odour filters can be filled with our filtermedia, tailored to your specific situation.
Our odour filters can be filled with our filtermedia, tailored to your specific situation.
Our odour filters can be filled with our filtermedia, tailored to your specific situation.

This makes our filters so versatile that all odour nuisance is a thing of the past.
PAARS® Odour Oxidizing Granules
Purple filter granules, impregnated with potassium permanganate (KMnO4), that act as a catalyst in your odor filter. A chemical reaction takes place whereby hydrogen sulphide (H2S) penetrates into the particle thanks to the very open pore structure.
Potassium permanganate is a very powerful oxidizer. The harmful gases will penetrate the filter medium through the porous surface, after which an irreversible oxidation process takes place. Harmless residual gases then remain.
PAARS® is non-flammable
PAARS® is resistant to high relative humidity
PAARS® is user-friendly
It is used in, among other things, sewage pumping stations, water treatment plants, factories and in the paper industry. The remaining activity of the granules is easy to trace. The fresh filter particles are purple, while worked-out filter particles turn white. Worked-out filter granules can be disposed of as normal industrial waste.
PAARS® is available in different types:
PAARS® Excellent, simply the very best there is
PAARS® Regular, mostly recommended
PAARS® Budget, budget friendly, also known as OdorOxidizer  or                                                        Tender-PAARS

)

PAARS® 2M, particle sizes from 0.3 up to 6.0 mm
EnAC-series® Activated Carbon
For heavier odour nuisance, we recommend odour filtermedia from the EnAC series®. This series consists of 23 specially developed types of activated carbon. Click on the "overview" button for the available application types.
The black filter granules have a porous inert carbon matrix, with a very large internal surface. Per gram, the surface area can be as large as two football fields. The filter granules from the EnAC-Series® are made from carbon-containing materials such as wood, coal and coconut shells. It is formed by a thermal process in which volatile components are removed in the absence of oxygen.
The EnAC-Series® have a high operating capacity for a broad spectrum of odours that occur in wastewater and industrial applications such as thiols, chlorides and hydrocarbons. Maintenance is simple and the EnAC-Series® are suitable for discontinuous processes. This means that it has a reactive effect: if the odour filter is offered a stench, the grains start an oxidation process with the substances that cause the stench.
The EnAC-Series® also work in biogases and is suitable for heavier odour molecules, including petroleum and tar. A specific series has been developed for each and every type of odour load.
CustomBlend® Anti-Odour Filtermedia
Our CustomBlend® is unique in the world of adsorption, chemisorption and oxidation.
CustomBlend® has the largest range and is very suitable for peak loads. It is used in sewage pumping stations, water treatment plants, factories, refineries and in the paper industry to remove molecules with a high MOL weight. But also components with a high volatility.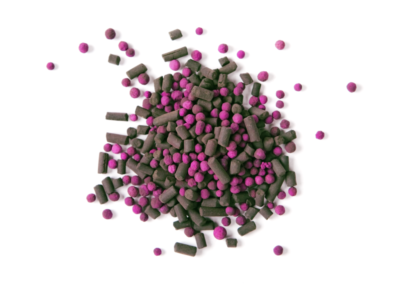 OdourTec® Anti-Odour Esotoric Oil
Used in combination with the OdourTec® spray installations. More information will follow soon. Can't wait to get more information about OdourTec®?
Service agreement for Entec (bad)odour filters and filtermedia
Filtermedia is usually replaced between 9 months and one to two years. However, this is entirely dependent on the contamination present. We can offer you a service contract for the maintenance of your odour filter, checking and replacing the filter media. This means that we check the odor filter on scheduled data.
During maintenance we remove ingrowth of weeds from your odour filter , we check the locks and we clean the odour filter. If necessary, we replace the filtermedia. At the end of the service you will receive a service report. In the service report all details about the condition of your odour filter are mentioned. How we encountered the odour filter, possible contamination of the odour filter and ingrowth of weeds. Defects and the possible amount of replaced filtermedia is stated.
To complete the report, photos are added to the report where necessary. If you have a problem or odour nuisance between the scheduled service, we are there for you.
You are assured of 24/7 accessibility and service.